Welcome to my blog.  I'm your host Fire-Redhead, aka Leah Wood. (at least until my last name will be changed to King)
For those that don't know me, I want to introduce myself and my new blog. Firefics.com is dedicated to my listeners and fans so they can have a more personal experience enjoying my work.  I have been writing for many years, dabbling into the Gargoyles and Predator/Alien genre, but now I mainly write fanfiction about Transformers.
When I first met my fiance, Kelly, I was hesitant to tell him about my writing but I did it anyway.  As fate would have it he liked my fictions so much that he is bound and determined to turn them into audio dramas and make my stories more well-known.
Below is a picture of me and my fiance Kelly dressed up as Slipstream and Starscream for Halloween. We made these costumes over a period of six months, combining our artistic and building skills to produce these bad boys.  I'm so happy Kelly enjoys and shares my excitement for Transformers because now my obsessions can become reality.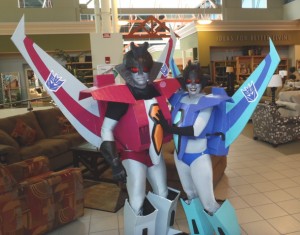 Categories: Gallery
No Comments »
Home | Tinman Audio Drama Trailer »
Leave a Reply
You must be logged in to post a comment.